Hong Kong 15th August
For the seventh consecutive Olympics the German Dressage team took the gold medal.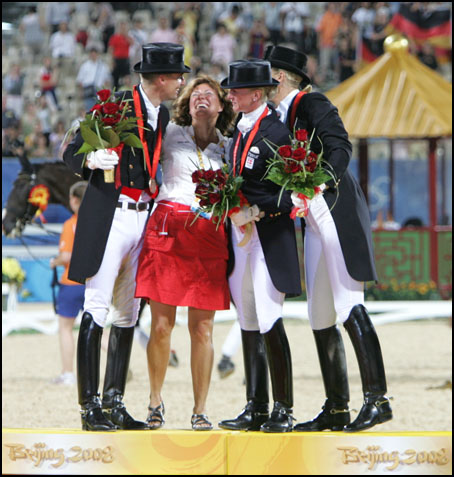 The 1976 Montreal Olympic Games saw the German Dressage team win its first Gold Medal and with the exception of the 1980 games when the Soviet Union team won, Germany has taken the gold ever since..
This is the third Gold Medal that the Germans have won so far in the Equestrian competition of the 2008 Beijing Olympic Games. They won both the team and individual Gold medals in the Eventing which finished on Tuesday.
The German fans were thrilled and waved the German flag in the venue.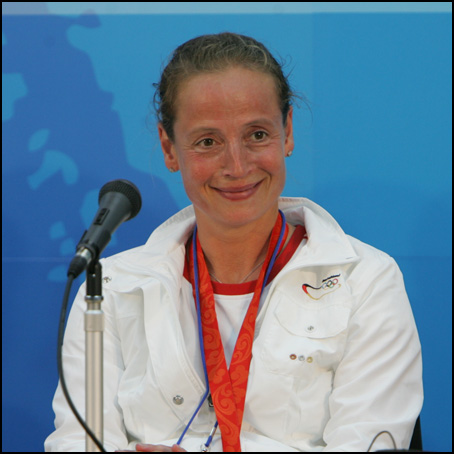 Isabell Werth said "it is easy to look good with this horse. Heike (Kemmer) had a super round and that gave us a positive entry. Nadine (Cappellmann) had a solid performance and I just had to do my thing. There was no time to take a rest, but I had a super feeling".
Isabell has not started to concentrate on individual Gold yet – if she wins it will take the Germans Equestrian tally to 4 – "I don't start dreaming now. First we are happy about this Gold. The next competition in new and things can change easily. Anky will try everything she can, so we will see. I will try as well".
Martin Richenhagen Germany's Team Chief always felt that the team would take the coveted Gold Medal. "Germany believes in the classical way of doing dressage", he said and added "We have a good team, good team spirit, good trainers and good horses".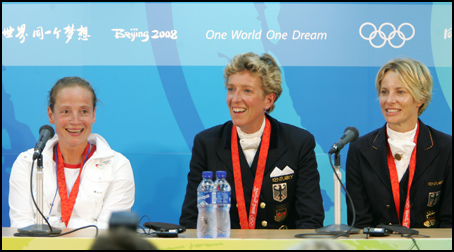 The Netherlands won the Silver Medal and Denmark the Bronze.
The Danish score was boosted after a stellar performance by Nathalie Zu Sayn-Wittgenstein on Digby, bringing a score of 70.417 per cent. Her uncle HM King Constatine is an IOC Honorary Member and had the pleasure of presenting his niece with the bronze medal.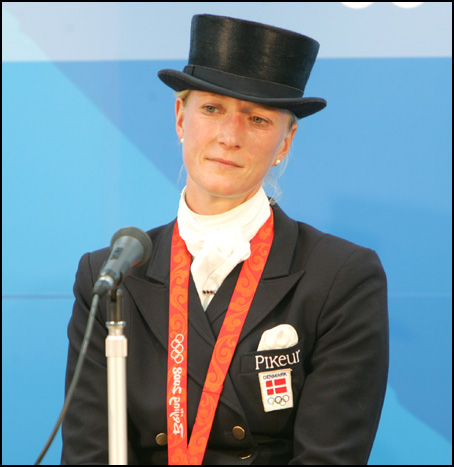 Nathalie indicated that even though she trained in Germany she was Danish at heart and very proud to be riding for her homeland.
Andreas Helgstrand of Denmark riding Don Schufo was a little disappointed with his personal performance saying "I had hoped to get a bit more. It was important for the team, and for me. I have ridden under such pressure and I was very focused".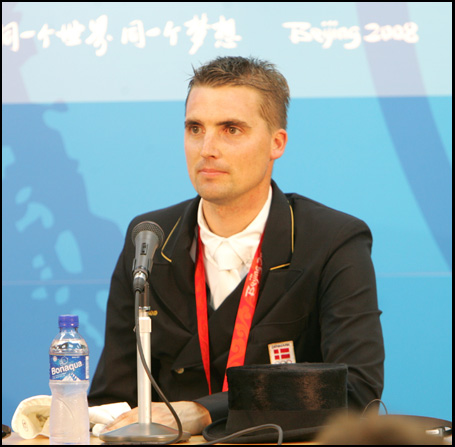 However he was very pleased with the team Bronze medal saying "This is the first in History", that Denmark has won a team dressage medal in the Olympic games.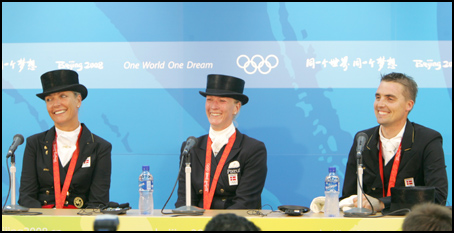 Double gold medallist Anky van Grunsven had to save the Silver medal for the Dutch teams. Salinero's 74.50 per cent was not enough to bring the team average to above the Germans to secure Gold. Anky did though expect more from her team saying "I think we all expected more. It was a difficult competition. We had two riders on the first day. I was disappointed with a couple of scores. We do think we were the second best team. We are happy with our medals".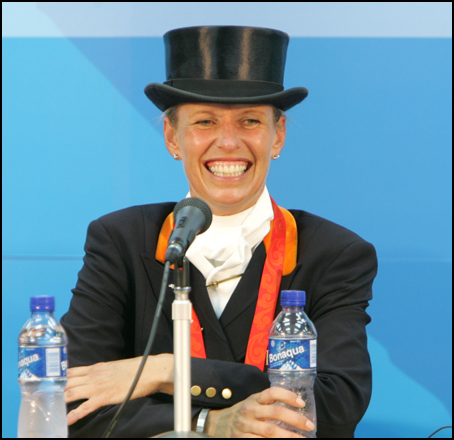 Anky also indicated that she will not be around forever, unlike Japanese dressage rider, Hiroshi Hoketsu who at 67 is the oldest Equestrian competitor at these Olympic Games.
Anky said, "If someone gave me a wonderful horse I will continue. I think London is too much. I have a couple of children to take care of. I will not continue until I am 80".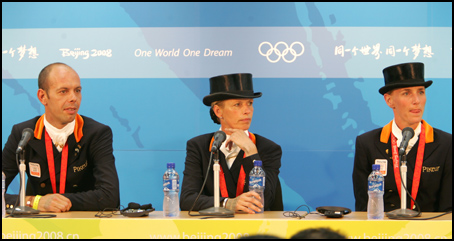 The presentation officials included:
Presenting Gold: HRH Princess Haya bint Al Hussein (UAE), President of FEI
Presenting Silver: Mr Timothy FOK (HKG), IOC Meneber
Presenting Bronze: HM King Constatine, IOC Honorary Member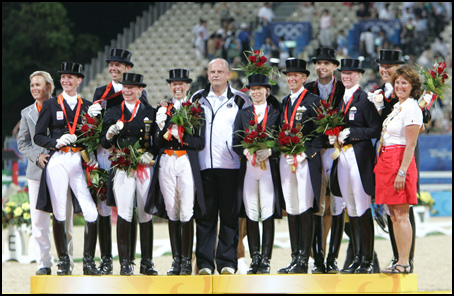 Australia placed 8th in the teams event, which is where Heath Ryan said they would place.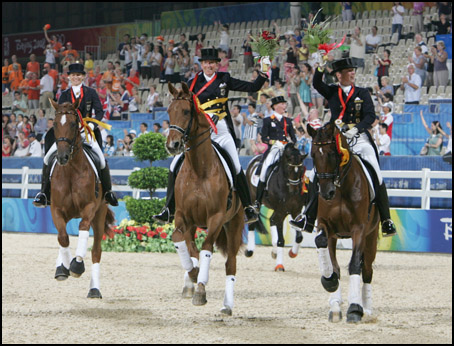 The Individual Grand Prix Special will take place on Saturday 16th of August in the evening.
© Cyberhorse 2008 Toni-Anne Collins