Hong Kong 14th August
Not only is Finnish Dressage rider Kyra Kyrklund competing at her 6th Olympics, but she also coaches 7 other competing riders.
Max, her brown gelding mount is currently on a diet. Even though the combination came third in the 2008 FEI World Cup Dressage Final, the pair have been specifically training in humid conditions to prepare for the games.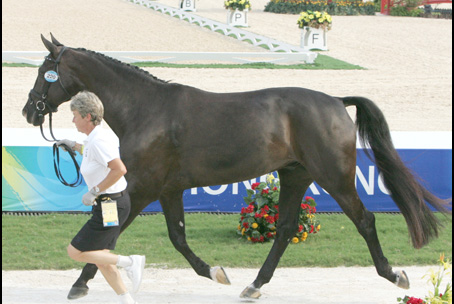 "I think if he is a bit thinner, it'll be easier to compete", she said.
Although Kyra has not won a gold medal, (her best placing has been a Silver medal at the 1990 world championships), her focus has been in training horses and riders. With her husband Richard White from Great Britain she is training seven riders competing at these 2008 Beijing Olympic Games.
Her training has long been respected and the riders in Finland's first ever dressage team at the Seoul 1988 Olympic games were all students of Kyra Kyrklund. The team placed a respectable sixth.
More recently Kyra and Richard set a coaching record when 11 of their students competed at the 2006 World Equestrian Games in Aachen Germany.
"I think I'm a much better trainer because I compete. I can think of new ways of explaining things", Kyra said. "I have never been riding because of the Olympic Games. I do it because I like to educate horses and I love my work", she added.
© Cyberhorse 2008 Toni-Anne Collins