Hong Kong 14th August
Although Denmark has not won any Olympic Team medals in the past, the Danes have a place in Olympic history through the sterling performance of Lis Hartel and Anne-Grethe Jensen both from Denmark.
Polio stricken Lis Hartel and her mount Jubilee won a Silver medal at Helsinki in 1952 and again in Stockholm in 1956 when the Equestrian Olympic competition of the 1956 Melbourne Olympic Games was held in Sweden due to quarantine regulations in Australia.
Also affected by Polio, Anne-Grethe Jensen won Silver with Marzog at the Los Angeles Olympic Games in 1984. Keeping the spirit alive her husband, Leif Tornblad, is a member of this year's games Ground Jury.
This year's Danish team has two seasoned and successful competitors in Anne van Olst riding Clearwater and Andreas Helgstrand, this year riding Don Schrufro.
Anne van Olst was Danish Champion on Chevalier in 1993 and 1994 and was in the team that won a Bronze medal at the European Championships in 1999. On Clearwater she finished fifth at a Grand Prix in Wiesdaden Germany in May of this year.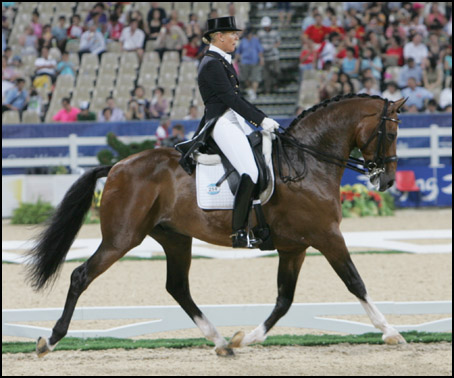 Andreas Helgstrand rode Matine at the 2006 World Equestrian Games in Aarchen in Germany. The crowd pleasing Matine brought tears to the crowds eyes with her unstoppable confidence and her absolute delight in performing. The "YouTube" video of her performance is said to have attracted 7.5 million viewers. Still injured Matine is unable to please the crowd as she did then, and has left Andreas to ride Don Schrufo.
The third member of the Danish team is Nathalie Zu Sayn-Wittgenstein who is making her Olympic debut on Danish bred Digby.
Princess Nathalie is the niece of Queen Margrethe II of Denmark.
Princess Nathalie and Digby have proved to be very successful after a relatively short time. She gained a place in the 2000 Olympic team as reserve rider, and afterwards she participated in the European Championship of 2001, gaining a bronze medal and the World Championship 2002 (where she was placed fourth) with the Danish team.
The Danish team is coached by German Rudolf Zeilinger.
© Cyberhorse 2008 Toni-Anne Collins