Hong Kong 13th August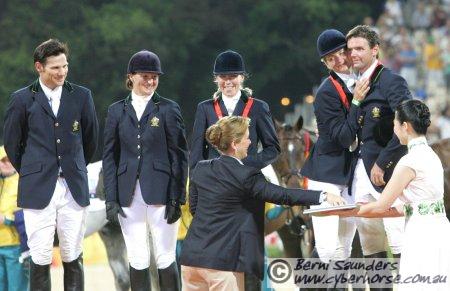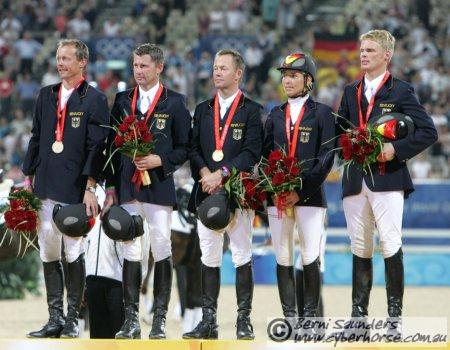 After a very exciting medal presentation a laps of honour with 14 horses,the press conference with the 3 medal winning teams was full of laughter and joy. Grinning from ear to ear to the German team elected Individual Gold medallist, Henrich Romeike as spokesperson and he did a wonderful job entertaining and lighting up the room. He always believed that the German team would win gold, but did not anticipate the Individual medal saying, "it just happened".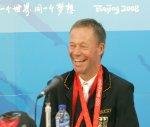 Romeike was also humble saying that "it doesn't matter if you win the Gold, Silver, or Bronze, that depends on the rules". He went on to suggest that if it been a requirement to have 5 clear cross country rounds, the Australians would have won.
He was very complimentary of all the medal winners saying "You can't do better than doing well", and each medal winner had done well.
Henrich was asked how he prepared for the second round of the Individual competition when he had taken a rail in the final round of the team event. To the roar of the audience he stated, "well, my horse knew that it was not allowed," but on a more serious note he said he took the rail because "I didn't ride well – it was my fault not the horses fault, horses don't make mistakes, well my horse doesn't".
In terms of his success Henrich said "I am nothing without this horse". Henirich is a true amateur athlete. Practicing as a dentist in Germany he spends his days in his surgery and rides in the afternoons and evenings. He is not quite sure how he fits it all in to be able to compete at an Olympic level, he said "I just do – riding is a pleasure for me, it is not work".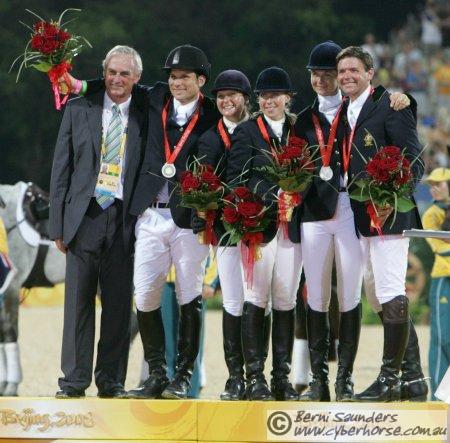 Shane Rose when asked how it felt to win a Silver Olympic medal was "grateful to his team mates who carried him all the way". He told of how difficult it had been for the Australian based riders to compete during the previous year due to the outbreak of horse flu and that it certainly hampered their preparation and thanked the Australian Sports Commission for their financial support of the cause.
When asked about her fall from the top spot in the dressage to not making the top 25 to jump off for the Individual Medal, Lucinda Fredericks backed her Headly Britannia and with good reason. The little mare, although getting time faults, had the top score in the dressage and had a clear cross country round and a clear show jumping round. Time was just not on her side at these games.

Lucinda was very proud to have been representing Australia and securing a Silver Medal. She gave praise to all the support staff including grooms and managers who had worked so hard from the time they had arrived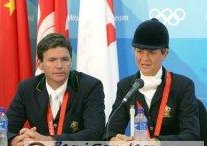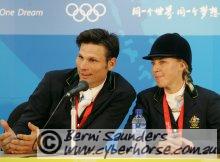 "It is also the first time that a husband and wife have been on the same team and had won a medal".
In response to a question about how that last rail in the Individual contest had fallen under Irish Jester, Megan Jones responded humbly, "I was happy and relaxed and the horse was feeling really good. I just didn't sit up enough at the last fence I think. He has probably only ever had 5 fences down and managed to have 2 tonight, well to me, it was unfortunate, it was my error unfortunately, he actually felt great".
The Australian team planned to have a big celebration including all their family and supporters.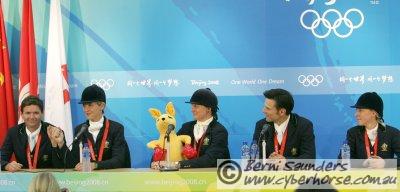 Before arriving in Hong Kong the British team was full of hope.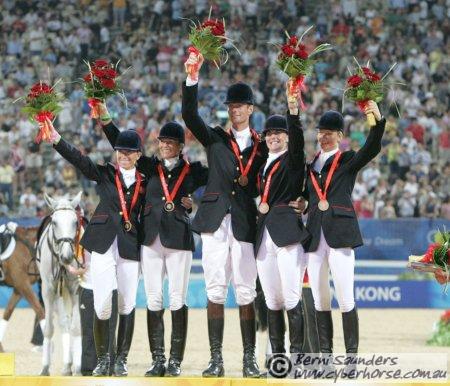 "We knew things would have to go our way to beat the Germans and the Australians", said William Foxpitt. They were certainly not disappointed with the Bronze Medals that hung around their necks.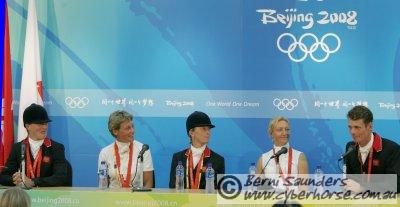 William thought it was a fantastic competition that so many horses came out and performed so well in conditions that originally had caused some concern among competitors.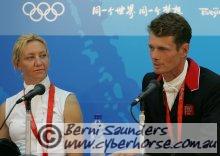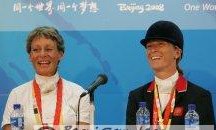 Kristina Cook, winner of the Individual Bronze Medal was a first time Olympic competitor. She had gone to Sydney as the reserve rider and although she had a great time found it very frustrating not being able to compete. She said with a smile that "you wish one of your team mates would get a nasty bruise", showing that she really doesn't have a malicious bone in her body.

Individual Silver medallist Gina Miles, who was representing the United States, could not believe she had actually achieved a medal ranking performance. "It's unbelievable, it's like a dream come true, it just the most amazing result" she said after realising she had placed third in the individual competition.
According to Gina her horse, McKinlaigh is an amazing animal. "He has all the qualities of an Eventing horse. He has never had a cross country jumping penalty in his entire career" said added.

She was very happy for him. "There were bumps along the way to get this result" said Gina who had made this journey with McKinlaigh. Having ridden him from the time he was a very young and green horse she has been there at every step. Gina did her first 3 star and 4 star Event on the huge horse. "He is so big and I am so little, but his mind is the best ever. He is very rideable for a small person like me"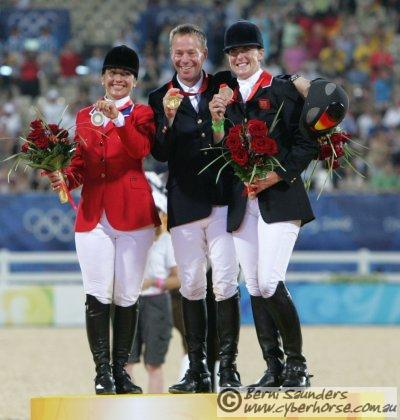 © Cyberhorse 2008 Toni-Anne Collins