Aided by Chinese culture and history Mike Etherington-Smith created an amazing array of jumps on the cross country course of the Eventing competition that each has a story to tell.
(The photos do not necessarily correlate to the jump they are above, but give an idea of the beauty of the course)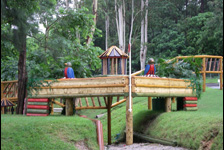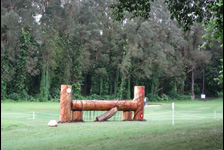 1. COURTYARD HOUSE (SIHEYUAN) - A courtyard house, a traditional type of residence since the Yuan Dynasty, is commonly found throughout China, especially in Beijing. It is a house with a common court-yard enclosed on four sides by wails. Many of these courtyard houses can still be found in the older neighborhoods of Beijing today.
2. PANDA PLAYGROUND - The universally loved giant panda is one of China's most famous icons. Native to west central and southwestern China they once lived in low-lying areas, but farming, deforestation and other such development have confined the endangered giant pandas to the mountains.
3. FLOWER BED - According to a Chinese proverb, a single flower does not make a spring, but hundreds of flowers in bloom symbolize abundance and prosperity.
4. TIGER HILL LOG - Tiger Hill in Suzhou City, Jiangsu Province is surrounded by Water and pine and plum trees. It is the most scenic destination in Southern China because of its natural beauty.
5/6. FIVE COLOURED LAKE - Five Coloured Lake IS one of the main attractions in Jiuzhaigou in Sichuan Province and is a UNESCO World Heritage Site. Due to different levels of water and Silts at the bottom of the lake, the water reflects a variety of colours - from light yellow, dark green, deep blue to turquoise.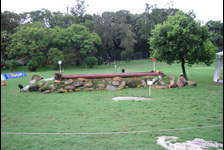 7. STONE MILL TABLE - Stone mills are farming tools prevalent in ancient China. Commonly used to ground cereal grains into flour, they represent great progress in food processing in the history of Chinese agriculture.
8. YU HUA TAI ROCKERY - Yu Hua Tai lies on a hill outside the Zhonghua Gate of Nanjing City. ''Yu hue'' means ''raindrops'' and has always been associated with melancholy in Chinese literature.
9. YU GARDEN - The Yu Garden in Shanghai took 18 years to build (1559-1577). It was built by a Ming Dynasty official for his parents as a sanctuary. Designed in the southern Chinese style, Yu means peace and prosperity.
10. THE BIRDCAGES - A Chinese proverb says, the birds are singing as flowers blossom, meaning there are plenty of opportunities and good spirits everywhere.
11. CHOPSTICKS - A unique aspen of Chinese life, the chopstick was invented over 3,000 years ago. Today, this eating utensil is used In many parts of Asia.
12/13. BIG LEAP TO SUCCESS WATER - ''A carp jumping over the dragon's gate'' is a Chinese idiom meaning the realization of one's lifelong ambition. With hard work and perseverance, one can leap over obstacles and reach the ultimate goal.
14. WISE MAN'S GRASS HUT - During the Three Kingdoms era, China was divided into Wei in the north, Shu in the southwest and Wu in the southeast. Liu Bei, the head of the weakest state Shu, sought the counsel of a very wise man, Zhuge Liang. And it was only after three visits that Zhuge agreed to assist Liu. The Chinese refer to this episode when describing the need to be humble when seeking advice or assistance from others.
15. OVER THE DITCH - From his verse in the poem ''Swimming|, Mao Zedong described his swimming experience in the Yangzi River when he saw a bridge crossing the river to Wuhan. Mao saw the bridge as a symbol of overcoming challenges in life, leading to an enlightened future.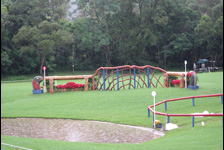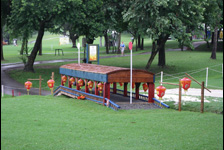 16. THE GREAT WALL - The Great Wall One Of the world's most recognizable landmarks, was China's defense against invasion from the north . In 220 BC, Emperor Qin united saviors Of earlier fortifications to form the wall that stretched for thousands of kilometers . This UNESCO World Heritage Site remains one of the most impressive and fascinating manmade structures in existence .
17. MUSHROOM - The mushroom is a very popular ingredient in Chinese cuisine. Wild, edible mushrooms are featured prominently in early records as the Chinese valued many species, not only for their nutritional value, but also for their medicinal use. Today, China is the leading exporter of cultivated mushrooms.
18. STONE FOREST - The Stone Forest is located 126 kilometres southeast of Kunming City in Yunnan Province and covers an area of 2,667 square kilometric. Extensive weather and seawater erosion has helped shape these limestone crevices into a spectacular forest of grotesque stone pinnacles.
19. LOTUS POND - The lotus flower grows from great depths of darkness to bloom into a plant of noble beauty. It is like an individual whose integrity is respected for his or her just and unwavering character.
20. LANTERN FOOTBRIDGE - A special handicraft of Chinese tradition, the lantern is used during the Lantern festival to symbolize unity among the family. Today, colorful and ornate lanterns are widely used as decoration during festive occasions, weddings and other communal celebrations.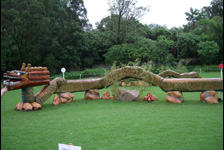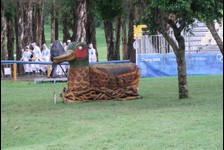 21. CROUCHING DRAGONS - The dragon is a mythical creature that is deeply rooted in Chinese culture. Representing power and authority, it is traditionally the symbol of the Emperor of China. The Chinese often consider themselves "descendants of the dragon".
22. RED CLIFF CORNER - The Battle of Red Cliff in 208 A.D., shortly before the formation of the Three Kingdoms; brought about a prolonged balance of power among the kingdoms. During this battle, the combined troops of Liu Bei and Sun Quan from south of the Yangzi River mounted a major assault on the northern troops of Cao Cao who outnumbered the southern allies. Due to the wisdom of renowned strategists Zhuge Liang and Zhou Yu, Liu and Sun's troops won this crucial battle.
23. KAT HING WEI BRUSH - The ancient walled village of Kat Hing Wei is located near the town of Yuen Long in the New Territories of Hong Kong. It is home to a clan that built the village in the 1600's. With wails standing almost 20 feet high with cannons mounted at its four towers, this fortified structure protected the clan from bandits and intruders over the centuries and is still inhabited by descendants of the clan.
24. SHENNONGJIA - The Shennongjia Nature Reserve, situated in Fangxian Country in western Hubei Province, contains the largest virgin forest in China. Rich with rare flora and fauna, this area is a nationally protected nature reserve.
25. PHOENIX'S LAIR - A celestial sign of the Chinese, the Phoenix is the king of the winged kingdom. This magnificent bird is synonymous with good fortune, opportunity and luck. It also conveys strength and resilience in the Symbolic rising from the ashes and soaring to greater heights.
26 . THATCHED COTTAGE OF DU FU - Du Fu a renowned poet in the Tang Dynasty, retreated to a cottage near Chengdu City in Sichuan Province to pen many of his works. Known for poems Of patriotic and lofty sentiments, Du Fu's temporary home has become a Shrine to Chinese literature.
27/28. PAGODAS - Pagodas are a traditional part of Chinese architecture and have been praised since ancient times for the spectacular views they offered. Many popular poems attest to the joy of scaling these multi-tiered structures.
29. BEIJING 2008 - We hope you have a wonderful time in this year's Olympics.
© Cyberhorse 2008 Toni-Anne Collins