Hong Kong 10th August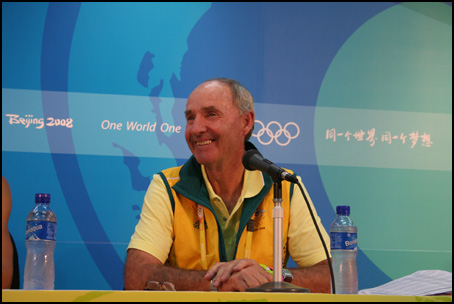 With the dressage finished the riders are preparing for the cross country that will start at 8.00am on Monday morning.
The top three teams, the Australians, Germans and the US will all be walking the cross country course again today.
According to the German Team Trainer, Christopher Bartle, each rider should really be walking the course four times with each of the walks being for a different reason.
The first walk is to gain an overall impression, the second walk gives riders an opportunity to look for options that might suit their horses better than others, the third walk focuses on preparation for taking each fence and the final fourth walk has the rider looking positively at the course, focusing on how to ride it if all goes well.
When asked how the US can beat the Australians, Philip Dutton maintained that the Australians would be riding conservatively and that any rider would really have to have a go if they want to come in before them. Having been a lynch pin in previous Australian Eventing Olympic teams he may well have the inside information.
The US horses were leaving the Sha Tin Stadium for Beas River at 1.00pm Hong Kong time. They will stay there overnight in readiness for yet another early start in the morning. The riders will spend the day preparing themselves for the substantial ask of the cross country phase of this Olympic 3 day event.
The Australian team are really hoping that they will be giving a winners press conference on Tuesday night. Shane Rose had a disappointing dressage test which really means that his contribution to the team is over.
Lucinda Fredericks had jumped Headley Britannia this morning and indicated that the mare felt really good and that her preparation was on track for a good day tomorrow, even though she herself was a little nervous.
Wayne Roycroft, the Australian Eventing coach knows that the other teams will be chasing the Australians but as this also happened in Sydney at the 2000 Olympic Games it is a position that the Australians are used to.
Wayne believes that Mike Etherington – Smith has done a fantastic job with the course. He and the Australian team were a little stunned that it was only 8 minutes but now believe that 8 minutes is fine. The course in his opinion is really really technical and will take a lot of riding and that the 8 minutes will actually be hard to get.
"The preparations have been very good. We are ready to go tomorrow" said Wayne Roycroft.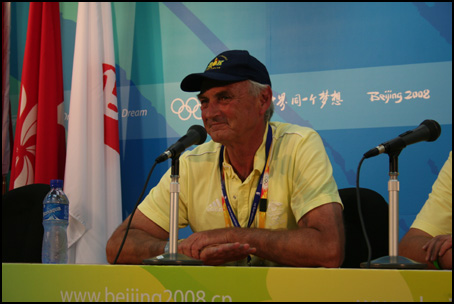 © Cyberhorse 2008 Toni-Anne Collins