Hong Kong 9th August
Session 1 Results for Eventing Dressage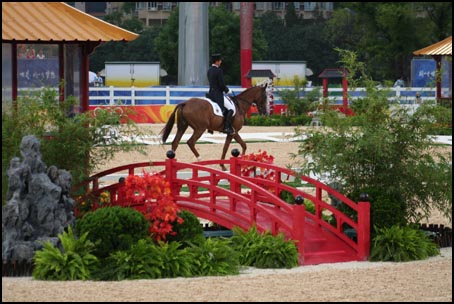 Provisional results puts Australia in the lead of the Olympic Eventing medal quest with the husband and wife team of Lucinda and Clayton Fredericks in first and second position after the first session of the Eventing dressage. Lucinda is riding her mare Headley Britannia and Clayton is competing on the reliable gelding Ben Along Time. Currently in third position is Gina Miles riding Mckinlaigh on a score of 39.30. This is the first time the US combination has broken the 40 barrier.
Hong Kong is hot and it is humid and to protect the horses as much as possible from the heat of the middle of the day, the Eventing dressage is being run early in the morning and late at night.
A 6.30am start makes it a unique experience for everyone involved, but to know that Clayton Fredericks had to arise at 3.30am this morning to prepare for his 7.00am dressage time shows that even for very experienced competitors, the sport of Eventing can always throw something new or a curved ball.
There were some fabulous tests this morning and Berni will be bringing you a detailed account of each horses performances from an A level dressage judges perspective.
To keep abreast of the team scores find the latest results at http://results.beijing2008.cn/WRM/ENG/INF/EQ/C73CA/EQX403300.shtml#EQX403301
© Cyberhorse 2008 Toni-Anne Collins