Hong Kong 9th August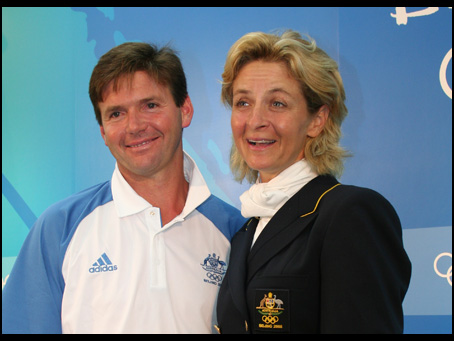 To take nothing away from US competitor, Gina Miles who had a personal best dressage score on McKinlaigh in the dressage phase of the Eventing competition, it was all about Lucinda and Clayton Fredericks this morning.
Being husband and wife gives them a bond that can't possibly be shared by their other team mates. They work around each other's schedules and seem to get as nervous for each other as they do for themselves. Clayton said that he was even more tired after watching his wife compete than when he completed his lovely dressage test that had him in the lead until Lucinda took to the arena.
Clayton and Lucinda have been partners for 15 years, have a daughter and run their equestrian business together.
This trip to Hong Kong was more like coming back to old friends as Clayton has been training members of the Hong Kong Jockey Club's Bea River equestrian centre for 16 years. Lucinda herself has also been involved in training clinics at least 8 or 9 times at the centre.
Although born in England Lucinda became an Australian citizen and was a reserve dressage rider for the World Equestrian Games in Jerez, Spain in 2002. This is the first time that Lucinda has competed in an Australian team, in fact it is the first time she has ever competed as part of a team and is enjoying working with people like Wayne Roycroft who is happy to share his knowledge and experience.
They have faced some difficulties here with venues being quite separate from each other and having to transport horses from stables to cross country venues and back, but believe that it has provided them with a learning experience that is valuable.
Taking the time away from their very busy schedule at home in the UK, where Clayton has now lived for 15 years, has given them the time to spend with just one horse. This is a luxury that they have not been used to for a long time and Lucinda indicated that she enjoyed building a very close rapport with Headley Britannia, who she affectionately calls "Britt".
"Britt" is a trustworthy dressage horse says Lucinda and that certainly showed in her test that scored 30.4 and put her in the lead of the dressage phase of the event.
It was not always that way though and Lucinda indicated, mentioning that she used to move like a sewing machine and Lucinda still does not demonstrate working trot when warming up around the arena in front of the dressage judges. Lucinda always works in either extended trot or canter in the arena prior to the test.
Australia is currently is first position in the Teams competition and has three riders yet to go. Megan Jones, Sonia Johnson and Shane Rose are all capable of fantastic dressage test so thus far Australia is looking pretty good.
Lucinda and Clayton have to look forward to the Cross Country phase of the competition and had planned on walking the course at least 2 times today. They will be doing it together, and looking after each other. If Clayton gets nervous for Lucinda in the dressage ring, Monday will probably prove to be a stressful time for him.
© Cyberhorse 2008 Toni-Anne Collins