Hong Kong 9th August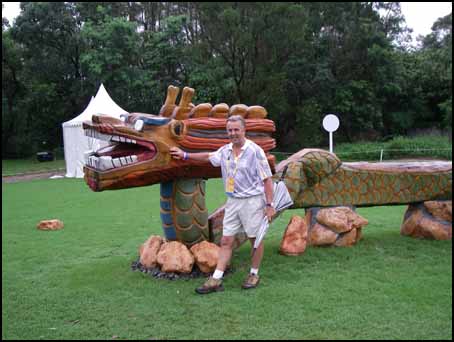 The Hong Kong Jockey Club has invested about $28 million in the cross-country footing at Beas River, including refurbishing the jump zones with sand and planting a total of 45,000 square meters of Bermuda grass on the Beas River competition course and warm-up areas.
The sand refurbishment was absolutely essential to cope with the unique weather conditions in Hong Kong in August. In the 24 hours between the 7th and 8th of August 12 inches of water fell on the cross country course at Beas River. In fact there has been 2 meters of rain between May and August this year.
The course walk led by Mike Etherington-Smith on Friday the 8th of August was drenched by almost nonstop rain and although it was wet underfoot it was not slippery or bogging. The going felt solid and it is anticipated that the course will truly live up to the challenge of coping with 70 plus riders even in the rain.
The course is technical and shorter than many expected. There have also been provisions made to allow the course to be shortened yet again in the face of inclement weather.
Mike is very comfortable in the belief that the horses will cope with the undulating terrain and the humidity which could turn the entire course into a sauna if the sun comes out after a tropical shower.
Spectators as well as horses have been catered for with wonderful viewing areas providing tables, chairs and in close proximity to food.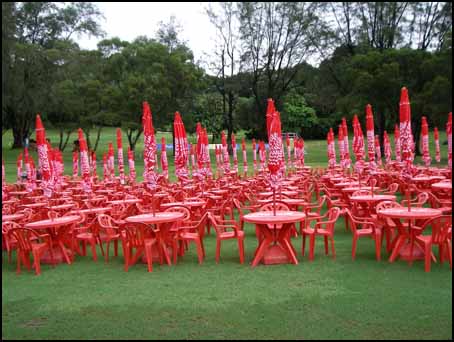 Observing Chinese traditional and culture Mike has taken the advice of a Feng Shui master who has strongly advised that there will be no rain on Monday the 11th of August.
Designing the course in line with Feng Shui tradition is not the only aspect of the design that encompassed Chinese culture. The second water fence (12/13) "Big Leap to Success Water" has an explanatory note that follows a Chinese story of success.
"A carp jumping over the dragon's gate is a Chinese idiom meaning the realisation of one's lifelong ambition. With hard work and perseverance one can leap over the obstacles and reach the ultimate goal."
The idiom reflects the determination of all the riders that will be sailing over it on Monday.