Hong Kong - August 8th
The German Eventing Team will be looking to settle the account that is still open following the shock disqualification of Bettina Hoy and her very consistent grey, Ringwood Cockatoo at the Athens Olympics in 2004.
Following three almost perfect rounds of competition, Bettina took the top spot on the podium and accepted the individual Gold medal which saw her German team-mates also take Gold. The medal was presented in an atmosphere of unrest as Bettina appeared to have crossed the track twice near the commencement of her showjumping round. There was much speculation at the time and two very different schools of thought as to whether she would stay in the competition or be disqualified were mooted.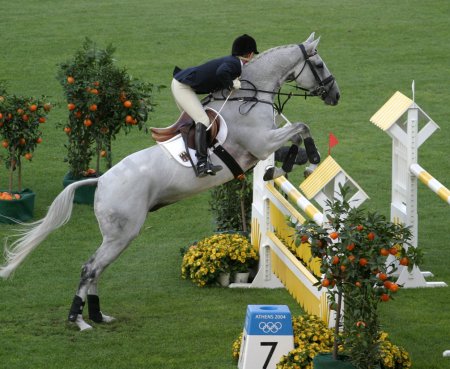 Ringwood Cockatoo and Bettina in the showjumping at Athens.
In the Athens press room we received about 4 different accounts of the incident and each had the impact of changing the medal positions dramatically. The opinion which favoured the Germans was the one that stuck at the immediate completion of the event and Bettina proudly accepted the individual Gold medal and this meant Team Gold for Germany.
Her win was challenge and the evidence presented to the Court of Arbitration for sport found that Bettina had broken the rules and Leslie Law from Great Britain became the Olympic Gold Medallist for 2008. He received the medal several weeks after his return to England and was robbed of the opportunity to be seen as the winner by the millions of people who were focussed on the Olympic Games at the time of the event.
The 2004 German team were dubbed the "gold winners of hearts" by the disappointed German fans and for many, the 2008 Beijing Olympic Games will be the time to set the records straight.
Sadly for Bettina she is unable to undertake this task personally as her reliable gelding Ringwood Cockatoo was injured in the last qualifying competition and did not recover in time to make the trip to Hong Kong. He was replaced by, The Ghost of Hamish, who will be ridden by Germany's oldest equestrian competitor, the 47 years young, Peter Thomsen who will be looking to better his 10th place at Badminton in 2007.
Bettina will attend these Olympics to support the German team and to assist her Japanese student Yoshiagi Oiwa.