News from Karen Bailey at Ellenbank, in chilly Tasmania!
Seems that lots of Australia's most successful horse people thank Prydes Feeds for their winning edge. We thank Karen for sharing her story with Cyberhorse readers.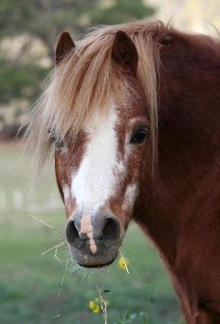 Karen said, "Ellenbank Stud has recently purchased a fantastic little stallion "Cherrytree Mandarin". We have used Mandarin for the last few seasons over our mares and really love what we are getting. All three mares are back in foal to him and the first two are due in November and the third due early New Year!
In June I flew over to Canberra to see a good friend of mine Amy Gorman from Lemaye who is also recommends Prydes feeds.
Whilst I was there Amy and I did a huge overhaul of Ellenbank's website - www.ellenbank.com.au
Photo is Cherrytree Mandarin at 20 years of age. Doing well on his Prydes feeds.
Prydes Nutritionist can custom make diets to meet the specific needs of your horse -

For more information on Prydes Feed click here

© Cyberhorse 2008 Cyberhorse