Meet Danish Dressage Sensation
ANDREAS HELGSTRAND
at Equitana Asia Pacific - Melbourne Nov. 2008
story and pictures Berni Saunders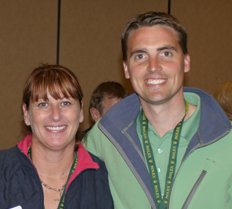 Andreas Helgstrand began his adventures with horses as a boy ... but said that he and his brother had some difficulties staying on board their early mounts and were less than impressed with the idea of riding horses that were keen to unseat their riders.
(Andreas is pictured right with Cyberhorse writer Tracy Mayhew)
Their dad also took up riding and enjoyed it (perhaps a little more than his sons). Andreas' father became so keen that he bought horses and then a property to keep them. After a break away, Andreas began to ride again and the next step was a career with horses. He spent six years working and training at Ålborg with Søren Valentin in order to complete his accreditation as a Bereiter. His early equestrian interests were more towards jumping as he had the ride on a very good horse that took him to the European Young Rider Jumping Championships.
Andreas completed his studies and then spent some time training with the well respected Anna van Olst in Holland. He then took a job in Norway and worked for 18 months where he had really good horses and was trainer for the junior and young riders. He describes this time as a super job and a great start to his professional career.
Andreas Helgstrand first came into the focus of international dressage watchers in 2005 when he was fourth in Voting for Danish Sport Talent of the Year for 2004. From there, his career has continued in an upward spiral and he has cemented himself as a top performer, outstanding horseman and thoroughly genuine person with a passionate love of horses and the sport of dressage.
Andreas was approached by Lars Peterson who was working at the Blue Hors Stud in Denmak. He discussed the possibility of Andreas taking his place if he were to leave - Andreas did take this job and has been there for several years. At this top stud he has had the chance to ride the best horses ... like the stallions Blue Hors Cavan and Don Schuffro.
Blue Hors Martine was not considered to be his best WEG 2006 prospect, but the young mare's work improved so much that when Andreas qualified two horses, Martine was the one he chose as his special partner. This ride was a heart stopping performance and the then 9-year-old mare Blue Hors Matiné wowed judges, officials and half a million spectators in the hallowed Aachen arena as they danced their way into the top placings with an amazing demonstration of piaffe and passage.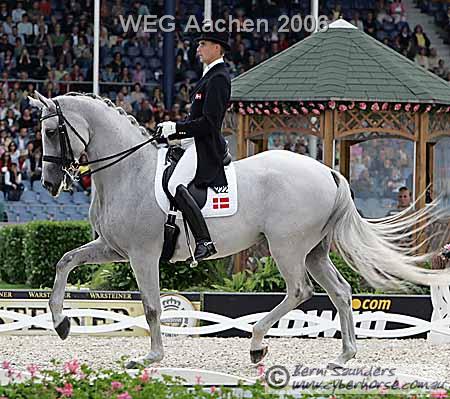 After watching Andreas' performance at WEG, I commented in my report that "this horse and rider are obviously in love" - such was the harmony, trust and joy of dressage. Andreas was quoted as saying "The horse needs to have fun – all of the time" ... and it is clear that he lives by this sentiment and trains his horses in a way that preserves their spirit and self esteem.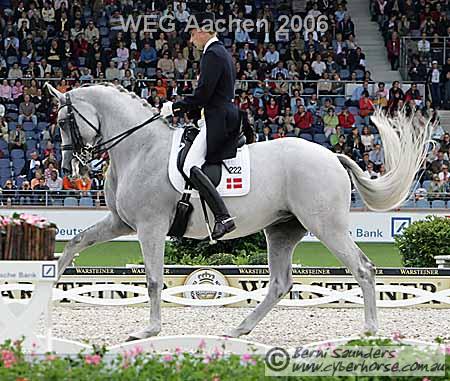 30-year old Andreas Helgstrand was scheduled to meet Australian enthusiasts in November 2007 and this trip was postponed due to the cancelation of Equitana due to the Equine Influenza outbreak. With Equitana now re-scheduled to be the biggest and best ever in November 2008, organisers are delighted to say that Andreas will be here and keen to share his knowledge and experience with his Australian fans.
See this YouTube clip of Andreas and Blue Hors Martine as they appeared at the 2006 World Equestrian Games in Aachen.
Make sure you do not miss this rare opportunity to watch Andreas ride and hear some of his training ideas.