What's On Your Horse's Mind?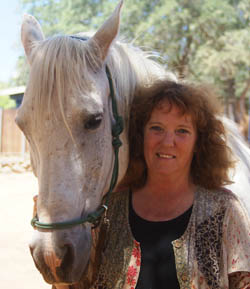 Author and Animal Communicator, Marta Williams (pictured right) will be a presenter at EQUITANA Asia Pacific this year. She will do a daily lecture/demonstration in intuitive communication using a live horse, and she'll give some tips on how to better hear and understand the intuitive messages your horse is sending you. Marta believes that everyone can learn to communicate this way with animals, by mentally sending and receiving thoughts, emotions, and images. In fact, she says, we already know how to do it, we were just conditioned to suppress the ability as we grew up.
How can this help you and your horse? Well, when you learn how to talk with your horse intuitively, you will get better cooperation and a much calmer, more relaxed and attentive horse. When you learn how to hear what your horse is saying, you can actually find out how he or she feels about work or the stable, or that new saddle. Marta's books are filled with case studies that show how surprising and helpful this process can be. For example, a dressage horse told Marta that he hated having to practice things over and over. He just wanted to do it right the first time and then be allowed to go play, go on a trail ride, or go see the donkeys (which he loved doing). To her credit, his owner tried it his way. The horse quickly rose three levels, started winning competitions for the first time, and became the trainer's favorite. The horse also did a little dance that he told Marta was his "happy dance", which a previous trainer had treated as disobedience. Again to her credit, the owner realized that the horse was just being happy at his success, and she now loves it when he does his "happy dance".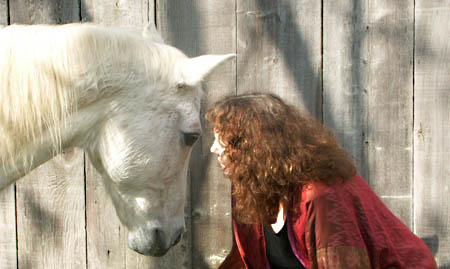 Marta shares a special moment with Dylon
Marta lives in Northern California and travels all over the world teaching animal lovers to rediscover their innate ability to talk with animals and nature. Her books are down-to-earth, and easy to read. Her first book, Learning Their Language, is a classic in this field and gives you a complete how-to guide to intuitive communication. Her second book, Beyond Words, is a collection of stories from regular people who were able to successfully communicate intuitively with animals and nature with amazing results.
Marta will be selling her books and DVDs at EQUITANA, including her new book, Ask Your Animal: Resolving Behavioral Issues Using Intuitive Communication. Marta will be teaching workshops throughout Australia during the month of November. To find out her schedule and sign up for a workshop, visit her website at http://martawilliams.com.
© Cyberhorse 2008 Berni Saunders