Review by Tracy Mayhew, Qld Cyberhorse Rep
I had the pleasure to get the chance to participate in one of Jane Myer's Independent Seat Clinics late last year, which was held at the PRARG grounds. I had previously attended Jane's workshop titled 'Keeping Horses on Small Properties' (click here for the story) and was sure that this clinic would be as interesting and informative as the previous one; and I wasn't disappointed.
Jane Myers, Principal of Equiculture
As a bit of background, Jane authored 'Managing Horses on Small Properties', 'Horse Safe: A Complete Guide to Equine Safety' and is also a co-author of 'Horse Sense - The Guide to Horse Care in Australia and New Zealand' (2nd edition). She has a Masters degree in Equine Science, taught equine studies at Glenormiston Agricultural College (Vic) for seven years, is a director of the Australian Horse Industry Council (AHIC) and a working group member of the Animal Welfare Strategy, a five-year government initiative. Jane, with the help of her husband Stuart, run Equiculture – a business that aims to develop responsible horse ownership.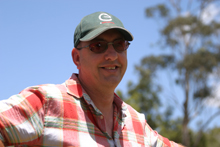 Jane's ever-supportive husband, Stuart
Getting back to Jane's Independent Seat Clinic, all the spots were filled and we were split up into groups of three or four riders per class with a morning and an afternoon session each lasting about an hour.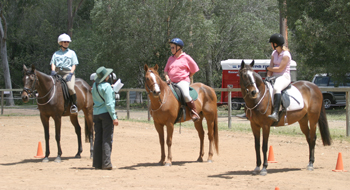 The first group to go consisted of Keran, Monique and Kathryn. Jane instructed the riders to let their weight drape around the horse with the toes spread evenly on the stirrups and heels relaxed. She then got the riders to stand up in their stirrups at a walk and when balanced (this was helped by a neck-strap that Jane provided all the riders with), then to sit back down in the saddle but to think of kneeling down so as to position yourself correctly in the saddle. All the riders were amazed and the change of their position after doing this exercise, particularly those who tended to ride with a forward leg.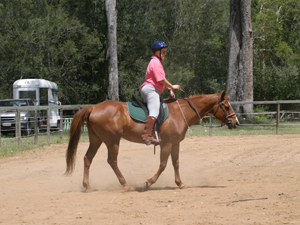 A rider doing a great job with her balance

Another exercise Jane got the riders to do was to pat the neck of their horse diagonally, (left hand patting right side of neck and vice versa). The aim of this exercise was to make sure the lower leg didn't swing back when the rider's weight was shifted. This exercise certainly made you aware of how much you shift your weight just by small movements.
Jane then got the riders to trot off and to practice 'posting' at this pace. I have to say it looks easier to do than it is! I found that you have to really engage your stomach muscles to help with supporting yourself and when we lost balance, Jane was very encouraging and said to just realign yourself and try again and by using your stomach muscles in this way, you strengthen your back muscles.
Jane pointed out that many dressage riders' upper body 'flop' because their not absorbing the movement with the correct parts of their bodies, ie. hips, knees and heel. She said by using these parts they will help keep the upper body still and after these exercises, you could see a marked improvement in all the riders' sitting trot and body position.
The other groups went through the same exercises and everybody could feel a positive difference in their riding by the end of their lesson.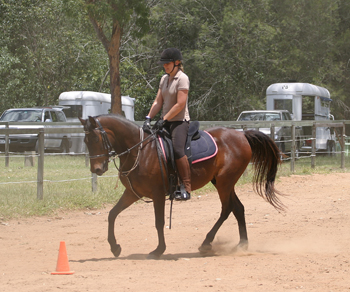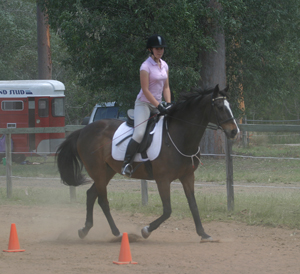 I have to say that Jane is great at encouraging open discussion. She was keen to get feed-back from all the riders and went on to explain her solution to their particular problem and gave the riders ideas on how to fix them.
The afternoon classes consisted of more of the same but also went on to do some sitting trot. Here Jane said that gripping with the knees leads to bouncing in the saddle as does trying to force your heel down. To avoid this she said to not push the heel down but to let it 'release' (in her words, the heel should "dip and spring"). An exercise to help this is to stand on the edge of a step and then lower the heel and then gently 'bounce' up and down.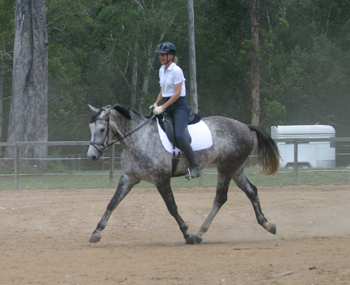 Keran and 'Dilbert' enjoying their lesson

Another exercise Jane got the riders to do was to start in a standing position at the trot, lower yourself into the saddle thinking about kneeling down (as per the morning's exercise), think of stretching your knees down, pull your stomach in and feel left/right/left/right with your seat and relaxed hips.
Jane wasn't striving for perfection, but just wanted to get 2 to 3 good strides and then allow the rider to rebalance.
We all finished off by riding in a 15m circle around some cones. Between the cones we would rise, stand and then sit and I have to say that even though it required a fair bit of concentration, I could feel myself being more at one with my horse.
At the end of the clinic I wasn't the only one amazed at how much more secure I felt in the saddle and Jane certainly gave us all some really useful exercises in the aim of having a more independent seat.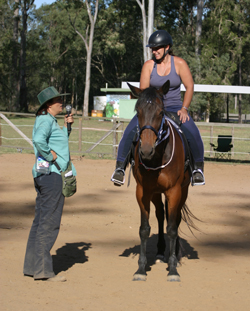 Jane giving instruction to a novice trail rider

Irrespective of whether you're a successful competitor, a mad keen hobby rider, or even a beginner rider, I'm sure you'll come away from the clinic with more insight and ideas as to how to work towards getting an independent seat. Highly recommended!
If you'd like to know more about Jane's forthcoming clinics, go to http://www.equiculture.com.au or email her at jane@equiculture.com.au
© Cyberhorse 2007 Tracy Mayhew