Juggler popped in to say hi to his friends. Juggler has been doing some Eventing since he retired from racing. The champion middle distance horse was trained by Gai Waterhorse and earned in excess of $2 million.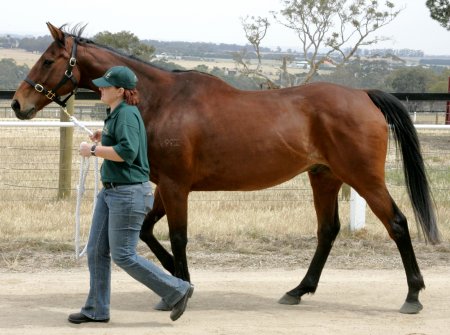 Juggler
Might and Power was noble and serene as he strolled down to say hello to his fans.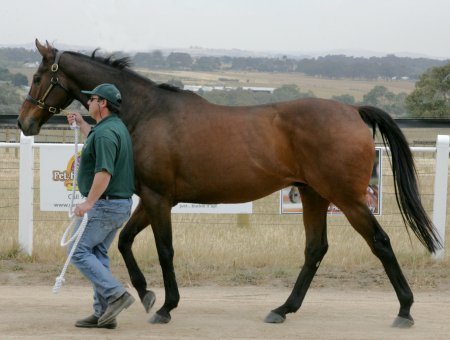 Might and Power
Better Loosen Up created Australian racing history when he won the Japan Cup in 1991. All of the horses were escorted by members of the local Bulla Pony Club and this young lady had to struggle with the huge trophy that remembers this champion's most notable and history making win.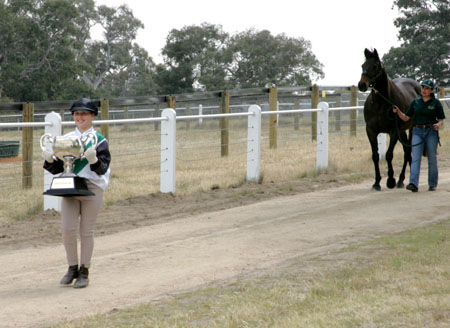 Above and below - Better Loosen Up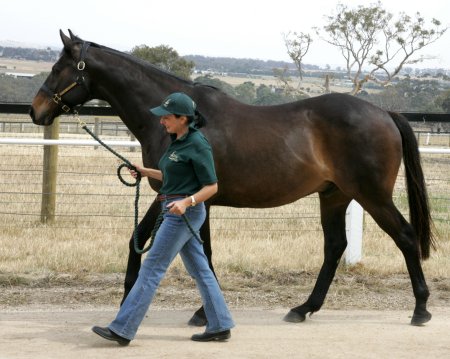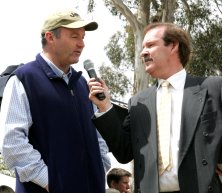 The final retiree to come out and meet the people was the 'horse of the moment' Fields of Omagh who has won over $6 million dollars during his lengthy and star studded career. He was wearing his shiny, new Cox Plate winner's rug and of course he was the crowd favourite. There was a hushed admiration for the achievements of this fantastic and gutsy bay who has touched the lives of so many people and will continue to do so for many years to come. Trainer David Hayes was there to say goodbye and "well done" FOO, he talks to Bryan Martin about Saturday's spectacular history making win.
FOO, we all hope that you enjoy your well earned retirement.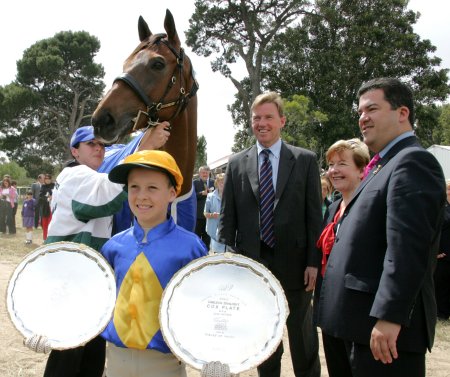 Fields of Omagh with the Hon John Thwaits, Denise O'Connor and
Racing and Tourism Minister John Pandazopoulos with one of the
members of the Bulla Pony Club holding FOO's 2 Cox Plates.
We hope that the public embrace the opportunity to visit this living museum and take in the splendour of yesteryear at the magnificent 700 hectare Woodlands Homestead property which is less that 20 kilometers from Melbourne's CBD.